Series cover
Cover der Schriftenreihe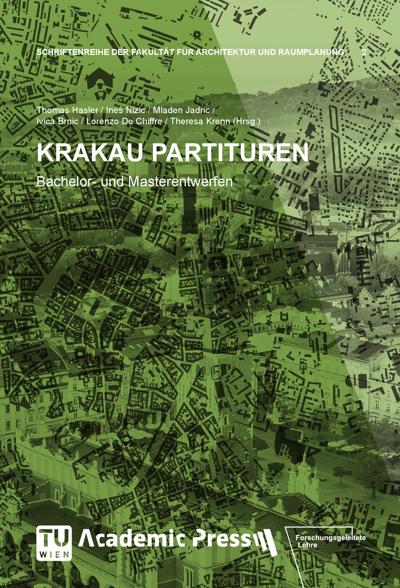 Title (de)
Titel (de)
Schriftenreihe der Fakultät für Architektur und Raumplanung
Title (en)
Titel (en)
Series of publications by the Fakultät für Architektur und Raumplanung (Faculty of Architecture and Planning)
Description (de)
Beschreibung (de)
Forschung, Lehre und Praxis benötigen Verknüpfung und gegenseitige Durchdringung. Diese Buchreihe rückt dies in den Fokus und vermittelt darüber ein vielfältiges Spektrum an Zugängen, Formaten und Beiträgen aus der forschungsgeleiteten Lehre an der Fakultät für Architektur und Raumplanung der TU Wien.
Description (en)
Beschreibung (en)
Research, teaching and practice require intersections and reciprocal connections. Placing a spotlight on these linkages, this publication series conveys insights into a broad spectrum of approaches, formats and contributions grounded on the research-based teaching of the Faculty for Architecture and Planning at TU Wien.
Editor organisation
Herausgeberschaft
Fakultät für Architektur und Raumplanung
First year in reposiTUm
Erstes Jahr in reposiTUm
Results 1-3 of 3 (Search time: 0.004 seconds).
Preview
Authors / Editors
Title
Type
Issue Date
1
Alic, Dijana; Jadric, Mladen
At home in Vienna : studies of exemplary affordable housing

Book

Buch

2018
2
Hasler, Thomas ; Nizic, Ines ; Jadric, Mladen ; De Chiffre, Lorenzo ; Brnic, Ivica ; Krenn, Theresa
Krakau Partituren : Bachelor- und Masterentwerfen

Buch

Book

2020
3
Hasler, Thomas ; Nizic, Ines ; Jadric, Mladen
Stadtcollage Split : Bachelor- und Masterentwerfen

Book

Buch

2021