Series cover
Cover der Schriftenreihe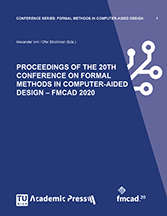 Title (de)
Titel (de)
Conference Series: Formal Methods in Computer-Aided Design
Title (en)
Titel (en)
Conference Series: Formal Methods in Computer-Aided Design
Description (de)
Beschreibung (de)
Formale Methoden in rechnerunterstützter Systementwicklung (FMCAD) ist eine Konferenzreihe über Theorie und Anwendung von formalen Methoden in Hardware- und Systemverifikation. FMCAD stellt ein führendes Forum für Forschende in Wissenschaft und Industrie dar, wo bahnbrechende Methoden, Technologien, theoretische Ergebnisse und Werkzeuge für formale Logik in Rechensystemen präsentiert und diskutiert werden können. FMCAD deckt formale Aspekte der rechnerunterstützten Systementwicklung, sowie Verifikation, Spezifikation, Synthese und Testung.
Description (en)
Beschreibung (en)
Formal Methods in Computer-Aided Design (FMCAD) is a conference series on the theory and applications of formal methods in hardware and system verification. FMCAD provides a leading forum to researchers in academia and industry for presenting and discussing groundbreaking methods, technologies, theoretical results, and tools for reasoning formally about computing systems. FMCAD covers formal aspects of computer-aided system design including verification, specification, synthesis, and testing.
First year in reposiTUm
Erstes Jahr in reposiTUm
Results 1-20 of 120 (Search time: 0.006 seconds).
Preview
Authors / Editors
Title
Type
Issue Date
1
Dureja, Rohit ; Baumgartner, Jason ; Kanzelman, Robert ; Williams, Mark ; Rozier, Kristin Y. ; Ivrii, Alexander ; Strichman, Ofer
Accelerating Parallel Verification via Complementary Property Partitioning and Strategy Exploration
Inproceedings
2020
2
Raghunathan, Divya ; Beckett, Ryan ; Gupta, Aarti ; Walker, David ; Griggio, Alberto ; Rungta, Neha
ACORN Network Control Plane Abstraction using Route Nondeterminism
Inproceedings
Oct-2022
3
Vaandrager, Frits
Active Automata Learning: from L* to L#
Inproceedings
Oct-2021
4
Kamara, Seny
Algorithms for the People
Inproceedings
Oct-2021
5
Lahiri, Shuvendu K. ; Lal, Akash ; Gopinath, Sridhar ; Nutz, Alexander ; Levin, Vladimir ; Kumar, Rahul ; Deisinger, Nate ; Lichtenberg, Jakob ; Bansal, Chetan ; Ivrii, Alexander ; Strichman, Ofer
Angelic Checking within Static Driver Verifier: Towards high-precision defects without (modeling) cost

Konferenzbeitrag

Inproceedings

2020
6
Nadel, Alexander ; Ivrii, Alexander ; Strichman, Ofer
Anytime Algorithms for MaxSAT and Beyond

Konferenzbeitrag

Inproceedings

2020
7
Lin, Xuankang ; Zhu, He ; Samanta, Roopsha ; Jagannathan, Suresh ; Ivrii, Alexander ; Strichman, Ofer
ART: Abstraction Refinement-Guided Training for Provably Correct Neural Networks

Konferenzbeitrag

Inproceedings

2020
8
Godbole, Adwait ; Manerkar, Yatin A. ; Seshia, Sanjit A. ; Griggio, Alberto ; Rungta, Neha
Automated Conversion of Axiomatic to Operational Models: Theory and Practice

Inproceedings

Konferenzbeitrag

Oct-2022
9
Jacobs, Swen ; Sakr, Mouhammad ; Völp, Marcus ; Griggio, Alberto ; Rungta, Neha
Automatic Repair and Deadlock Detection for Parameterized Systems
Inproceedings
Oct-2022
10
Zhang, Zichao ; de Amorim, Arthur Azevedo ; Jia, Limin ; Pasareanu, Corina S. ; Ivrii, Alexander ; Strichman, Ofer
Automating Compositional Analysis of Authentication Protocols

Konferenzbeitrag

Inproceedings

2020
11
Kheterpal, Nishant ; Tang, Elanor ; Jeannin, Jean-Baptiste ; Griggio, Alberto ; Rungta, Neha
Automating Geometric Proofs of Collision Avoidance with Active Corners

Inproceedings

Konferenzbeitrag

Oct-2022
12
Pick, Lauren ; Fedyukovich, Grigory ; Gupta, Aarti ; Ivrii, Alexander ; Strichman, Ofer
Automating Modular Verification of Secure Information Flow
Inproceedings
2020
13
Tsiskaridze, Nestan ; Strange, Maxwell ; Mann, Makai ; Sreedhar, Kavya ; Liu, Qiaoyi ; Horowitz, Mark ; Barrett, Clark
Automating System Configuration

Konferenzbeitrag

Inproceedings

Oct-2021
14
Jonsson, Bengt ; Lång, Magnus ; Sagonas, Konstantinos
Awaiting for Godot Stateless Model Checking that Avoids Executions where Nothing Happens

Inproceedings

Konferenzbeitrag

Oct-2022
15
Vigouroux, Thomas ; Ene, Cristian ; Monniaux, David ; Mounier, Laurent ; Potet, Marie-Laure ; Griggio, Alberto ; Rungta, Neha
BAXMC: a CEGAR approach to Max#SAT
Inproceedings
Oct-2022
16
Priya, Siddharth ; Su, Yusen ; Bao, Yuyan ; Zhou,Xiang ; Vizel, Yakir ; Gurfinkel, Arie ; Griggio, Alberto ; Rungta, Neha
Bounded Model Checking for LLVM
Inproceedings
Oct-2022
17
Dharanikota, Samvid ; Mukherjee, Suvam ; Bhardwaj, Chandrika ; Rastogi, Aseem ; Lal, Akash
Celestial: A Smart Contracts Verification Framework

Konferenzbeitrag

Inproceedings

Oct-2021
18
Kragl, Bernhard ; Qadeer, Shaz
The Civl Verifier

Konferenzbeitrag

Inproceedings

Oct-2021
19
Hadžić, Vedad ; Bloem, Roderick
CocoAlma: A Versatile Masking Verifier

Konferenzbeitrag

Inproceedings

Oct-2021
20
Lohn, Evan ; Lambert, Chris ; Heule, Marijn ; Griggio, Alberto ; Rungta, Neha
Compact Symmetry Breaking for Tournaments
Inproceedings
Oct-2022